Check out what's new at School Fundraising Products, Inc. to help you achieve your fundraising goals; Spirit Yard Signs, Vinyl Cushions, Spirit Towels, Pom-Poms and more! We carry the most complete line of quality school spirit promotional products found anywhere. If you are looking for a new church fundraiser idea or easy fundraising ideas for your school. We have many new ideas for fundraising activities for your organization.
If you have any questions on the products that we offer please call us at 419-800-8104 or click here to email us.
Mailing Address:
School Fundraising Product, Inc.
130 Cherry Street.
PO Box 675
Bradner, OH 43406
Phone:
Phone: 419-800-8104
Fax: 419-800-8105
Email:
click here to email us
ABOUT SCHOOL FUNDRAISING PRODUCTS, INC.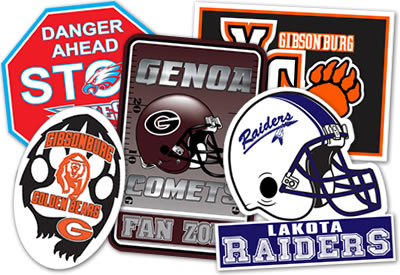 School Fundraising Products, Inc. is a division of Design Graphics Group, Inc. DGGI was established in 1978 in Bowling Green, Ohio as a graphics printer. In the past two decades since its founding, DGGI has evolved into an industry leader in display and commercial screen-printing. Through DGGI's vision and dedication to providing a quality product and offering new innovative ideas, School Fundraising Products, Inc. was created.
Our facilities provide over 55,000 square feet of production area and recently have added 15,000 square feet solely for the production of fund raising products. School Fundraising Products, Inc. is dedicated to assisting schools, sports teams, choral groups, marching bands, academic and youth organizations in raising money to purchase items such as new software, new batting cages, new uniforms, new equipment, or even take a class trip. Whatever your goals are, we here at School Fundraising Products, Inc. are eager to help you achieve those goals.
School Fundraising Products, Inc. offers a staff of experienced customer service representatives who are ready to assist and help you customize your fund raising package. With a variety of products and fundraising ideas, we are sure to make this a profitable fundraiser for you. We welcome your input and suggestions to help us help you make your fund raising project a success!