Check out what's new at School Fundraising Products, Inc. to help you achieve your fundraising goals; Spirit Yard Signs, Vinyl Cushions, Spirit Towels, Pom-Poms and more! We carry the most complete line of quality school spirit promotional products found anywhere. If you are looking for a new church fundraiser idea or easy fundraising ideas for your school. We have many new ideas for fundraising activities for your organization.
If you have any questions on the products that we offer please call us at 419-800-8104 or click here to email us.
Mailing Address:
School Fundraising Product, Inc.
130 Cherry Street.
PO Box 675
Bradner, OH 43406
Phone:
Phone: 419-800-8104
Fax: 419-800-8105
Email:
click here to email us
FUNDRAISING PRODUCTS – STADIUM SEAT CUSHIONS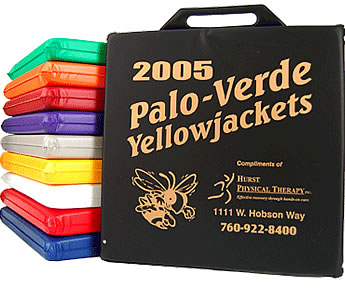 Stadium Seat Cushions are a popular item with the fans! They're a spirit-filled way to add comfort, while providing support from the first pre-season game to the championship final. The personalized Seat Cushion are made of vinyl which makes these washable and water-resistant.
The 14 inch square cushions are available with 2 inch or 2 ½ inch soft pads; the 14 inch square cushion are available with a 1 1/4 inch, 2 inch pad or 2 ½".
Colors available: Red, Royal Blue, Yellow, Green, Orange, Purple, Maroon, White, Black, Navy Blue, Forest Green and Metallic Silver.
Select one color for your seat cushion – or select a new tow-tone seat cushion at no extra charge. Imprint one side in any standard ink color.
Part #XXXXX
12" x 1" – VC211
14" x 1 ¼" – VC321
14" x 2" – VC321
14" x 2 ½" – VC331