Check out what's new at School Fundraising Products, Inc. to help you achieve your fundraising goals; Spirit Yard Signs, Vinyl Cushions, Spirit Towels, Pom-Poms and more! We carry the most complete line of quality school spirit promotional products found anywhere. If you are looking for a new church fundraiser idea or easy fundraising ideas for your school. We have many new ideas for fundraising activities for your organization.
If you have any questions on the products that we offer please call us at 419-800-8104 or click here to email us.
Mailing Address:
School Fundraising Product, Inc.
130 Cherry Street.
PO Box 675
Bradner, OH 43406
Phone:
Phone: 419-800-8104
Fax: 419-800-8105
Email:
click here to email us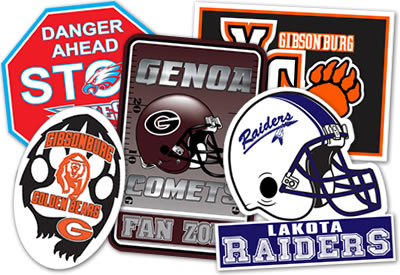 Who doesn't read bumper stickers while sitting in traffic? For many people, bumper stickers and window clings are a form of art and great entertainment!
Bumper Strips and Ultra Clings are a classic fan-favorite promotional item for your fund raising event. Recognize a special event, honor student or a league championship with these attractive and durable bumper stickers and vinyl decal clings from School Fundraising Products, Inc. They are imprinted on the highest quality vinyl with fade resistant inks. Both Bumper Strips and Ultra Clings are available in an assortment of sizes.
Vinyl clings are a great way to show pride in your school by displaying your school's logo or mascot on your car window without messy adhesive residue…our vinyl clings stick with static! Screen imprinted on long-wearing 5-mil thick clear or white ultra cling material, they can be used indoors or outdoors and are removable and repositionable! Static allows the vinyl to cling to a variety of surfaces, including glass, wood, painted bumpers and painted walls (surface testing is recommended).
For those who prefer bumper stickers, our bumper strips are silk screen imprinted on durable 3.5-mil thick white vinyl with a self-adhesive back. Bumper stickers are a time honored fundraising tradition!
There are a variety of uses for these strips and clings as inexpensive promotional items:
Church fundraiser

Political campaigns

School fundraising

Recognizing honor students or league champions

Sport or band fundraisers

Cheerleading fundraisers and more…
Bumper stickers and vinyl clings from School Fundraising Products, Inc. will surely promote your school spirit or community commitment all year long!